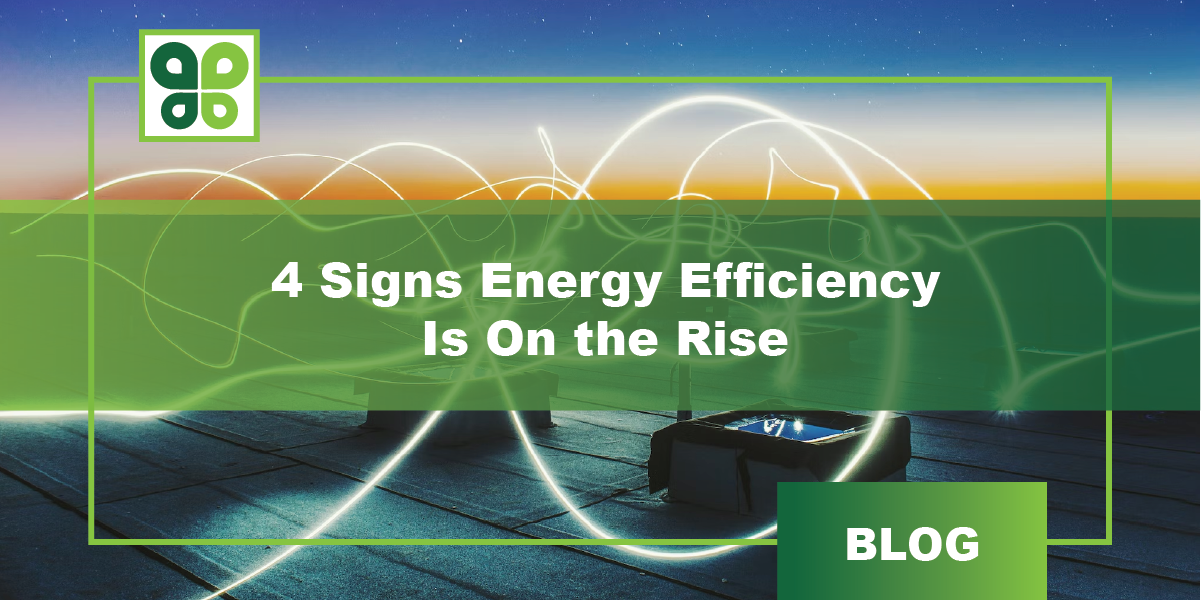 4 Signs Energy Efficiency Is On the Rise
In 2022, it became clearer than ever that we need to rethink our approach to energy. From rising costs to increasing environmental issues, there is a crisis of energy that needs to be solved through greener sources and improved efficiency to reduce consumption. Luckily, this year has given us a lot to be hopeful about as governments, businesses, and individuals are rising to the challenge to transform global energy usage.
Great strides have been made in green energy, but there's also a growing focus on simply using less energy, as we start to understand that energy efficiency is often the fastest, most affordable way to reduce our carbon footprint. Read on to see why 2022 was a turning point for energy efficiency and some of the great things that happened throughout the year.
1. Investment in energy efficient solutions grew in 2022.
Investors are increasingly seeing the importance and opportunity of energy efficiency, and 2022 was a record year for investment in projects and companies improving efficiency. According to some estimates, 2022 will have seen $470 billion invested in energy efficiency—up 9% from 2021.
One example of this is Budderfly: this year we received $500 million funding from Partners Group, enabling us to rapidly expand our efforts and to accelerate the energy efficiency of business across the U.S.—including Dunkin', Subway, McDonalds, Eyecare Partners, Essential Properties Realty Group, Wendy's, IHOP, YMCA and countless others.
One of the reasons we focus on this underserved market is that quick-service restaurant locations are some of the biggest consumers of energy. In fact, the average QSR may use up to 5-10 times more energy per square foot than other commercial buildings. This means the energy efficiency upgrades they receive are highly impactful.
Budderfly also got additional funding, launched strategic partnerships, and continued to grow our efficiency efforts across industries. Read about some our big 2022 successes here.
2. Energy costs skyrocketed, making efficiency a bigger priority.
August electricity bills for U.S. consumers jumped the most since 1981, gaining 15.8% from the same period in 2021. Of course, this isn't great news. However, it made the need for reducing energy use crucial. Plus, it helped many people understand that the relationship between environmental interests and financial interest are actually very much aligned. In other words, when you use less energy you both save money and help the planet.
3. Consumers finally understand the importance of business sustainability—and companies are stepping up.
Most people know that sustainability is vital for protecting the planet for our personal wellbeing and for future generations. In 2022, studies showed that consumers now expect brands across industries to do their part to help. One study showed almost half of consumers are willing to pay more for brands enacting visible sustainability efforts.
Luckily, companies are starting to heed the call. At Cop27, 57 global companies signed a declaration promising to support climate action aligned with the Paris Agreement and to work with their trade associations to advance this alignment.
Plus, a report published in December showed that 92% of franchise owners and managers care about the environment. More than 50% say they are working on sustainability projects for their business and 25% say they plan to start one in the next 12 months. Read the full report here.
4. The White House accelerated energy efficiency projects: for federal buildings, families, and small businesses.
The Inflation Reduction Act was signed into law this August, and it includes the most spending any one nation has ever made to fight climate change at one time, with a new goal to reduce emissions by 40% by 2030. The bill provided $369 billion in funding to incentivize the manufacturing of clean energy products, cutting down on emissions, and furthering environmental justice. Plus, it expanded tax credits for energy efficient commercial buildings and energy efficient homes. Read more about it here.
The Climate Smart Buildings Initiative was also announced, outlining a plan to modernize Federal buildings with renovations and energy efficiency upgrades that will help reduce their missions. It is just a part of the Federal Sustainability Plan, which aims to reduce emissions from Federal buildings by 50 percent by 2032 and achieve net-zero emissions by 2045.
Then in November, the U.S. Department of Energy announced a new program to provide $250 million to finance energy efficiency upgrades for American families and businesses.
In the most recent announcement, U.S. Secretary of Energy Jennifer Granholm said, "Energy efficiency is one of the most cost-effective and easiest-to-deploy solutions we have to combat climate change and reduce energy costs."
We agree with that sentiment, and we're happy to be celebrating a year that saw so much progress made on the energy efficiency front. At the same time, there is still a ton of work to be done, and we hope to see even more energy reduction in 2023.