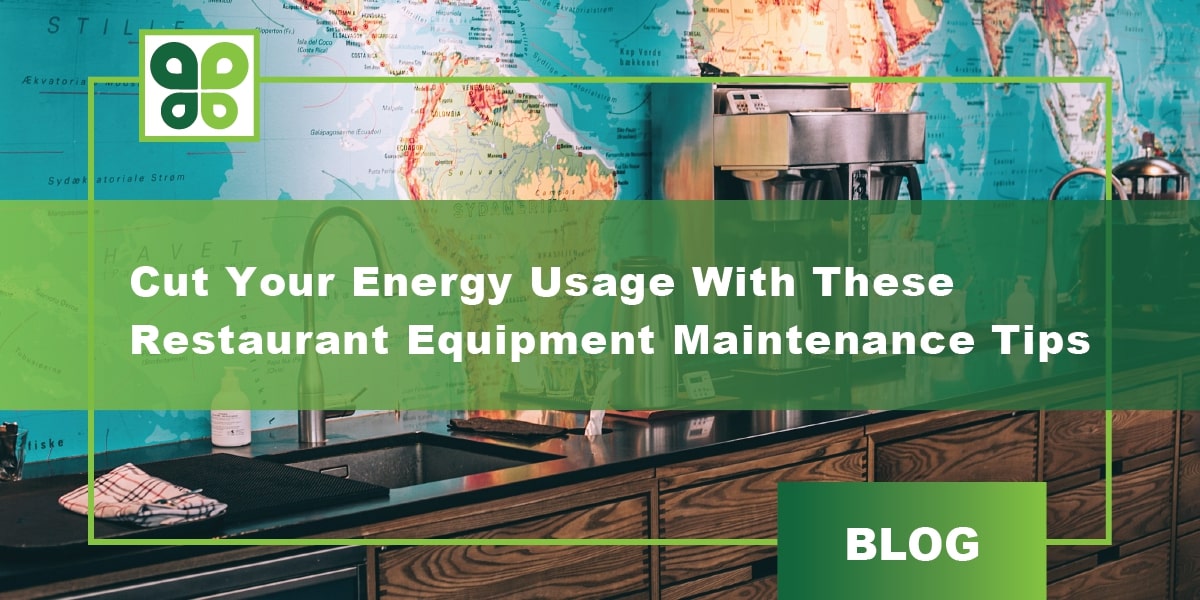 Tips to Cut Your Energy Usage - Maintenance System for Restaurant Equipment
As a restaurant owner or manager, you know just how important well-functioning restaurant equipment is for keeping your business running smoothly. Proper restaurant equipment maintenance does more than just prevent service interruptions: it's also an important part of keeping your staff and customers safe while decreasing your carbon footprint.
While we strongly recommend that you check your manufacturer's specific instructions on equipment maintenance, there are general maintenance tips that should apply to most pieces of equipment.
The Importance of a Well-Developed Restaurant Equipment Maintenance Schedule
Add proper cleaning to your employee training. Make sure they don't just know how to use your equipment but are also trained to give it a good clean on a regular basis.
All cooking equipment should be cleaned on a daily basis. Daily cleaning reduces fire risks and increases food hygiene. An equipment cleaning routine will also increase longevity, decreasing the need for replacements and sending fewer machines to the landfill.
Be sure to also establish a monthly deep cleaning routine. Often, surface-level cleaning misses internal cleaning requirements, such as clogs in grease traps. These hidden issues force your equipment to work harder and waste energy.
Sick of your restaurant's high energy usage?
We can help. Get NEW HVAC and lighting at NO out-of-pocket costs.



Daily Tasks
Of course, all dishes, glasses, and cutlery must be washed after every use. However, any surface that comes into contact with time/temperature control for safety (TCS) foods (including potato dishes and cooked vegetables) should be cleaned regularly—every 4 hours at minimum.

Clean grease off of your flat-top griddles. Grease build-up can transfer to your recipes and is a huge fire hazard. You can also increase heat transfer efficiency by keeping your griddles clean.

Cleaning out your grease filters is a great way to prevent grease fires and keep your equipment at peak performance. Many commercial kitchens only do this once a week, but if your restaurant serves a lot of greasy foods, it should be part of your daily routine.
Weekly Tasks
If your restaurant kitchen has any floor drains, make sure they are cleared up weekly. Clogged floor drains increase the risk of overflows that can cause significant equipment damage. Back-ups also decrease your building's energy efficiency by forcing your pipes to work extra hard.

De-lime your sinks and faucets on a weekly basis. Limescale build-up will impede water flow and may cause irreparable damage if left to accumulate. Regular cleaning prevents the need for harsh lime removing chemicals and supports efficient water usage.

Wipe down your walk-in coolers' door gasket with soap and water. This will prevent mold and bacteria growth that could damage your gasket's seal and cause cold air leakage.
Monthly Tasks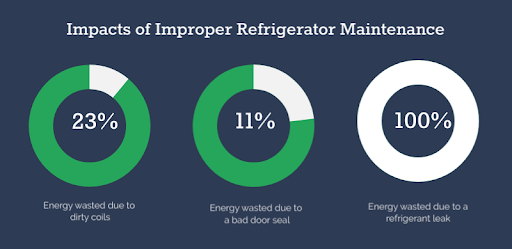 Remove and clean out any air filters in your refrigerators and ice machine. Dust and grease build-up impedes proper ventilation.

If you use a combi oven, be sure to de-lime your steam generator regularly. Limescale build-up damages your combi oven's elements, chambers, and temperature sensors which leads to unwanted downtime and wasted energy.

Take the time to manually clean your refrigerator coils. If your coils are covered in dust and grime, they can't effectively release heat causing them to work harder and waste energy. In fact, a refrigerator with dirty coils uses 23% more energy than a refrigerator with clean coils.
You should also check to make sure your refrigerator is charged with the proper refrigerant.
Boil out your deep fryer to remove oil build-up. This protects the flavor of your fried foods and helps you use less oil.
Regularly Perform Preventative Maintenance
Wear and tear is to be expected even with the highest quality and most well-cared-for equipment. However, you can take preventative measures to slow down your equipment's wear. Even if your equipment is functioning fine, it's always good to perform regular maintenance.
Keeping all of your commercial kitchen equipment in tip-top shape will decrease the likelihood that you will need to contact a restaurant equipment maintenance company to perform an emergency repair.
Additionally, poorly maintained equipment can cause you to waste 80% of the energy you use. It's important to train your staff to take a proactive approach to restaurant equipment maintenance to stop your equipment from hitting that point.
Daily Tasks
Make sure all of your refrigeration units are running between 35 and 38 degrees Fahrenheit by checking your thermostat or monitoring system. This range is cold enough to prevent refrigerated food from spoiling while cutting back on energy emissions caused by refrigerators that run colder than necessary.

Turn off the lights in your walk-in units when they are not in use to save electricity.

Inspect your dishwasher's rinse arm nozzle for clogs. A backed-up nozzle will waste energy trying to push water past blockages.

Inspect your oven's door hinges and make sure your oven's door is closing tight. If your oven's door isn't closing tight enough you will be losing a lot of hot air.
Weekly Tasks
Inspect your range top's temperature. The ideal temperature range will vary depending on your cooking needs; aim for a temperature that is hot enough to cook but no hotter than necessary.

If your restaurant has a soda machine, it's critical to make sure your CO2 valves are functioning properly. CO2 leaks from soda machines can cause serious health repercussions and added CO2 emissions.

Examine your kitchen's exhaust fan belt to make sure it has the right amount of tension. Kitchen ventilation accounts for half of your HVAC usage, but proper maintenance significantly reduces the amount of air exhausted from your building.
Don't overlook your HVAC! It's an easy piece of equipment to overlook, and you'll soon be paying the price if you don't keep up with maintenance.
Monthly Tasks
Inspect your refrigerator compressor and make sure it's running at a consistent speed.

Check your water filters to make sure they're working smoothly and free of accumulated sediments. A poorly maintained water filter wastes energy and renders your water unfit for consumption.

Check the integrity of your fryer's O-ring and drain pan connection to prevent food waste and oil leaks.

Make sure your microwave turntables are spinning smoothly so they can spend their energy on cooking food instead of trying to force their turntables to spin.
What if my Restaurant Equipment is Beyond Repair?
With the right amount of equipment maintenance, restaurant owners can dramatically increase the longevity of their equipment. However, sometimes old equipment is beyond repair and in need of replacement.
When that happens, choosing more energy-efficient replacements will help you cut your emissions and keep business running smoothly for longer. Restaurant equipment maintenance software can also help you keep a consistent maintenance schedule.
Stress Less With Budderfly's Restaurant Equipment Maintenance Services
When you work with Budderfly, you get free, energy-efficient, HVAC, lighting, and refrigeration at no cost to you. And that's not even all of it: We also handle equipment installation and maintenance!
When you partner with Budderfly, you stay in the know about how much energy your new, properly maintained equipment is using—thanks to our energy monitoring software.
Let's talk about how you can upgrade your equipment and cut your energy consumption.
.