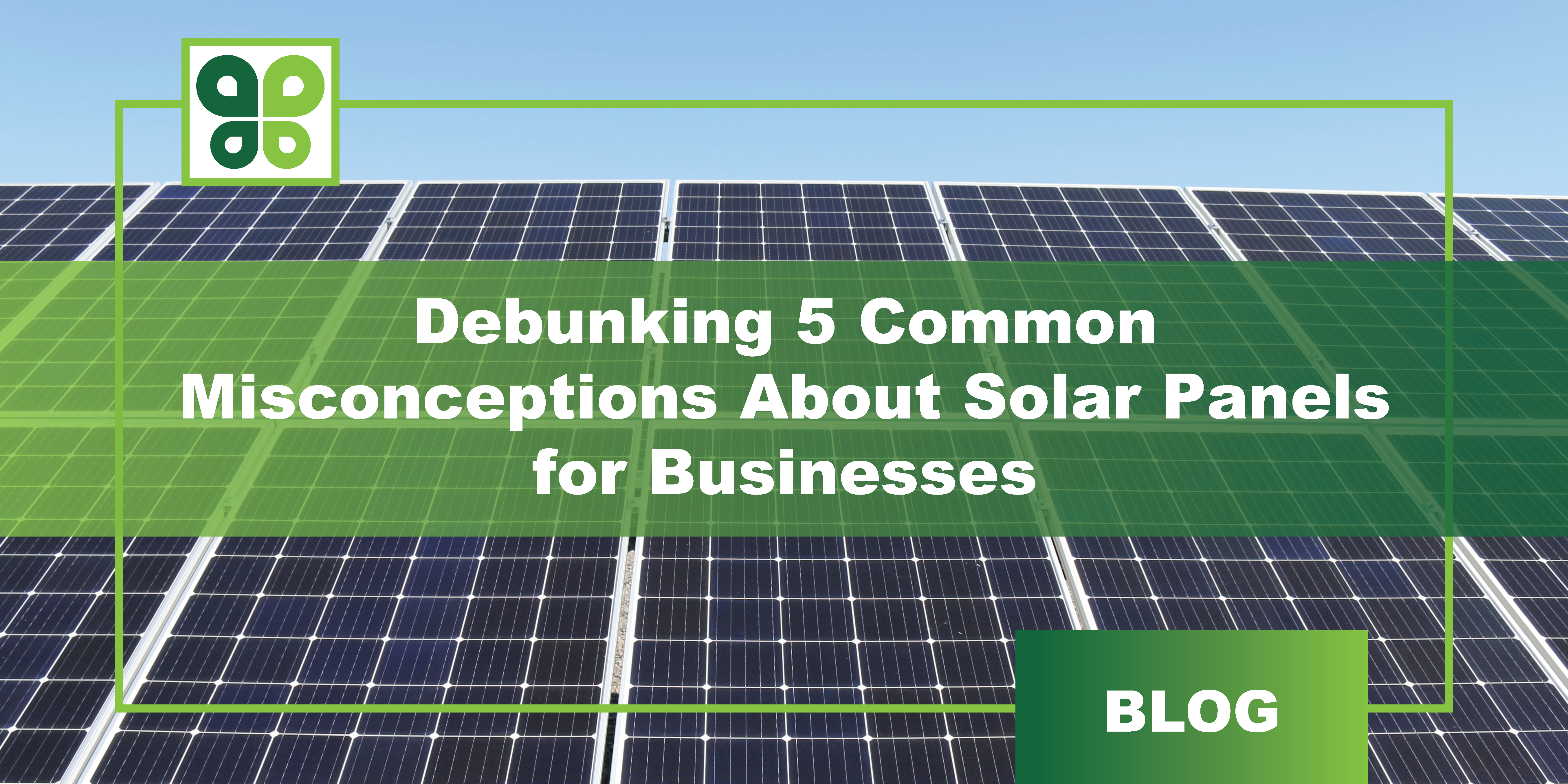 Debunking 5 Common Misconceptions About Solar Panels for Businesses
Solar energy is having a big moment in 2023. Installing solar panels is becoming more popular than ever as homeowners and business owners look for ways to minimize their negative impact on the environment and fight against rising energy prices.
However, most people aren't solar energy experts, so there are some common misconceptions about the cost and logistics of getting panels installed. This is especially true for businesses. Solar panels are most commonly imagined atop home roofs, but businesses have a lot to gain by incorporating solar into their energy strategy.
Below are some of the most common myths regarding solar panels for businesses, and the truth of what a business can expect when going solar.
Myth #1: Solar panels need to be installed on my roof.
Rooftops are the most common location for solar panel installation, and there are a few different ways they can be mounted depending on the details of your business's roof. For flat roofs, the panels can be mounted using ballasts or rails.
However, there are other ways a business can implement solar energy. An increasingly popular option is to mount panels to parking lot canopies. Another alternative is ground mounts, which can be advantageous if you have less-than-ideal roof conditions.
Myth #2: Solar panels only work in sunny weather.
Dermatologists recommend you wear sunscreen all year round, even on cloudy days. That's because UV rays penetrate through all weather conditions. For this same reason, solar panels can generate energy in all weather conditions.
Of course, sunny locales and bright days are most productive for solar energy, but panels work even in rainy or cold weather. A 400-kw panel, one of the biggest sizes available, can produce anywhere from 1 to 3 kWh each day depending on the exposure to sunlight.
Myth #3: I must own my building to install solar panels.
Owning your building makes solar panel installation a lot simpler, but being a renter is not necessarily a deal breaker. As long as your landlord approves, you can take advantage of solar energy.
Myth #4: Solar panels are too expensive.
Many business owners believe that installing solar panels is prohibitively expensive. The truth is that, for a business running on thin margins, the cost of panels and installation can be high. However, given the recent surge in energy costs from traditional fossil fuel-derived energy sources—combined with enhanced tax incentives, as well as state and utility rebates—solar energy has become more accessible across the U.S.
Better yet, there are companies that will provide all the upfront capital and install solar panels at your business at no cost. When you work with an energy-efficiency-as-a-service provider like Budderfly, you can get solar energy as part of the efficiency upgrades we provide.
No-cost solar panel installation may sound too good to be true. But investing in solar panels for the businesses we work with is a win-win-win, as we help boost our customers' energy efficiency, mitigate risk from rising energy costs, improve their bottom line, and help the planet.
Myth #5: It takes too long to see a return on investment.
Investing in solar panel installation is good for the planet, but for a business owner, it also needs to make financial sense. Many people believe that solar panels aren't worth installing because, after the upfront cost, it will take decades to make that money back. However, this isn't necessarily the case.
Especially when paired with energy efficiency upgrades that reduce your overall energy consumption, solar panels can have an immediate impact on your monthly energy bills and add up to savings quickly.
Plus, when you avoid upfront costs entirely by partnering with Budderfly, then you don't even have to worry about the ROI of solar. We pay for energy efficiency equipment upgrades and solar panels, and businesses get to reduce their reliance on carbon-emitting energy sources and lower their overall energy consumption.
Want to learn more about solar panels for business—and how you can get them at no cost by partnering with Budderfly? Contact us today and we'll put you in touch with one of our solar experts.
.