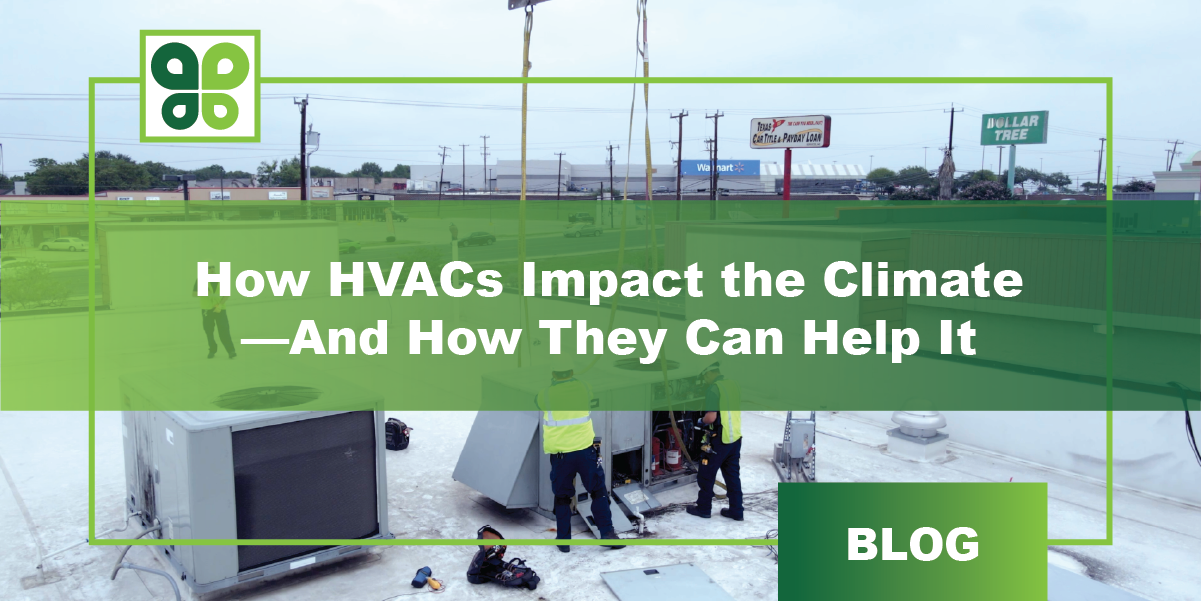 Does Air Conditioning Contribute to Global Warming - and Does It Help?
When you think of the major ways humanity is working to fight against climate change, you likely call to mind pictures of solar panels, wind farms, and electric vehicles. You might not imagine air conditioners.
Yet, the relationship between air conditioning and our warming planet is tightly knit, and HVAC (heating ventilation and air conditioning) plays a big role in climate change—both in its development and eradication.
Air conditioners did not become commonplace in the U.S. until the 1960s. Now they're ubiquitous: 90% of new single-family homes built in 2019 in the U.S. included air conditioning units. The rising popularity of air conditioning is global, with skyrocketing adoption in China and other countries. It's estimated that there are more than 2 billion air conditioners currently being used around the globe—a number expected to reach 4.5 billion by 2050.
The reason for this growth is fairly obvious: the planet is getting hotter. In fact, as temperatures steadily rise across the globe, with heat waves increasing in frequency and shattering historical records, cool air is becoming not simply a luxury—but a necessity for survival.
At the same time, this presents a sad irony: increasing usage of HVAC is exacerbating the very problem we use it to solve. Powering air conditioners to cool our homes, businesses, schools, and more is increasing carbon emissions and contributing to global warming.

HVAC and Climate Change - How Do They Contribute
There are a few ways that air conditioning systems are impacting climate change.
Firstly, it takes energy to power these machines—energy that is often generated by burning fossil fuels. HVAC makes up about 20% of energy use in buildings globally, according to the IEA. Incredibly, the amount of energy used globally just for cooling air is 2.5x higher than the total energy used by the entire continent of Africa.
As the number of air conditioners in use is expected to more than double in the next few decades, the amount of fossil fuels burned to power them could be incredibly detrimental to the planet. In fact, the World Economic Forum predicts that by the end of the century, HVAC emissions could account for a 1-degree Fahrenheit rise in global temperatures.
Another way air conditioning contributes to this rise is refrigerants. Chemicals like hydrofluorocarbons (HFCs) are commonly used to cool air, and these can be 12,000 times more potent at trapping heat in the atmosphere than carbon dioxide. Even just small leaks of these gasses, from billions of air conditions units, can add up to a huge negative impact.
How It Can Be Solved With Climate-Friendly HVACs
The moral of the story, however, is not to abandon your HVACs to save the planet. In fact, as summers get hotter than ever, it can be dangerous not to run them. Luckily, when it comes to the connection between air conditioning and climate change, there's actually some really good news at hand.
Incredible strides are being made with HVAC technology. New models are being produced that are highly efficient, by top HVAC manufacturers such as Lennox, Carrier, Trane, and many others. These modern units can create comfortable temperatures using a lot less energy. The rising cost of energy across the globe means many business and home owners are investing in these more efficient HVAC units—to not only decrease their carbon emissions but also to prevent steeper energy bills.
The U.S. Department of Energy has actually set new minimum efficiency requirements for air conditioners and heat pumps as of January 1, 2023. New units that are produced or installed will have to meet these new standards, improving overall efficiency around the country.
Plus, in 2022, the U.S. Senate ratified a treaty that promises to phase out the use of HFCs, the heat-trapping refrigerant gases, meaning HVACs and refrigerators will now need to rely on greener alternatives. If successful, eradicating HFCs across the world could reduce global warming by 1 degree Fahrenheit.
It's easy to see a connection between the rise of HVAC popularity in the 1960s and the rising rate of climate change. This relationship is adapting, though, and innovations are being made that will reduce the impact of cooling and heating our businesses and homes has on our outside environment. It's clearer than ever that energy efficiency is one of the fastest, most powerful ways we can help the planet.
Budderfly is passionate about helping businesses become more energy efficient to improve operations, keep energy bills from skyrocketing, and of course reduce carbon footprints. One of our tactics is providing and installing energy efficient HVACs at business locations, at no upfront cost to the business. If you'd like to learn more about our HVAC replacement program, and our portfolio of other solutions, contact one of our experts today.