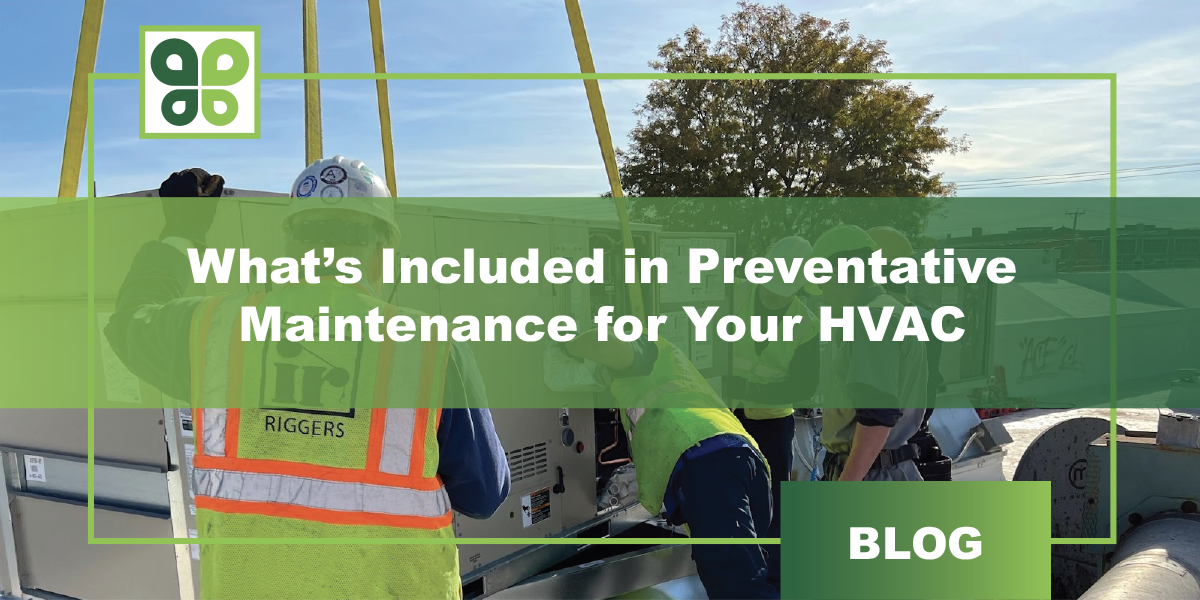 What's Included in Preventative Maintenance for Your HVAC?
To function properly, all the appliances a business uses need preventative maintenance, and your heating, ventilation, and air conditioning (HVAC) is no different. HVAC preventative maintenance helps you avoid costly repairs, save on utility bills, and keep your staff and patrons comfortable.
At a minimum, you should perform preventative maintenance on your HVAC system twice a year, specifically once in the spring for your cooling units and once in the fall for your heating units. (And that's just the tip of the iceberg for the importance of maintenance.)
This is where a trusted energy efficiency partner can help your business: by replacing outdated units and overseeing an HVAC preventative maintenance plan for you.
In this article, we will examine preventative maintenance for HVAC units, including a checklist of what your HVAC team should take care of and a few operational things you can take care of yourself.
Why Preventative HVAC Maintenance Is Important
There are many reasons you should regularly check and upgrade your HVAC, including preventing sudden breakdowns before they happen. Plus, well-maintained HVAC systems consume less energy, so you can save on energy usage and do your part to help the environment.
Those are two of the top reasons having an HVAC preventative maintenance program should be a business priority. Here are a few others.
Protect Your Team

and

the Planet With Energy-Efficient HVAC
How does "at no upfront cost to you" sound?'

Longevity
One broken part can impact the rest of your system. As a result, your HVAC could reach the end of its life early. Following a regular maintenance plan will help you detect these flaws before they impact other parts.
Even when there aren't broken parts, things like dirty filters can cause the unit to work harder than necessary. Wasted energy increases your overall energy consumption and your system's workload—and reduces longevity.
Better Air Quality
Your HVAC system does more than keep you warm or cool. It also filters the air. Without proper maintenance, your units won't do this job as well, increasing the number of airborne pollutants in your building.
Budderfly HVAC Replace Program Project Site from Budderfly, Inc. on Vimeo.
Clean air is more pleasant to breathe and it keeps employees and patrons with asthma, allergies, or other respiratory issues safe. As the recent pandemic showed, better circulation also decreases the spread of airborne pathogens.
Safety
Keeping your HVAC system running smoothly is as much about safety as comfort. Poor maintenance is one of the leading causes of carbon monoxide leaks in the United States.
Carbon monoxide poisoning is a serious issue. According to the CDC, it hospitalizes 14,000 Americans each year. Maintaining your HVAC helps protect your employees and your patrons.
Save on Repairs
Utility bills aren't the only way you'll save. Better maintenance means fewer system breakdowns that require costly repairs and interrupt business operations.
Calling a professional to perform preventative maintenance HVAC tasks takes out the stress of maintenance and ensures your business's HVAC system is running efficiently.
Your HVAC Preventative Maintenance Checklist is Made Even Easier When You Work With an Energy Efficiency Partner
As mentioned, though you should check your HVAC twice a year at minimum, it can be a challenge to know what to look for and how to do it properly. In the following checklist, we'll explore what an energy efficiency partner looks for when taking care of your cooling equipment in spring and heating equipment in fall. We'll also list what both your heating and cooling system needs all year round.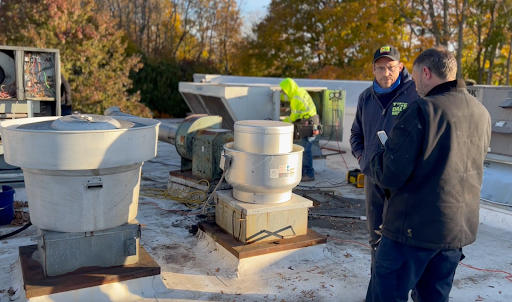 Getting More Out of Your HVAC With Professional Preventative Maintenance
Though some say that you can check your business's HVAC on your own, you should rely on your energy-efficiency partner to do the HVAC preventative maintenance for you. Your energy efficiency team is equipped with HVAC preventative maintenance software tools you may not have on-site, and they have the dedicated expertise to make sure maintenance is done right the first time.
Throughout the year, your HVAC maintenance team takes care of the following:
Spring & Fall
Testing your air conditioners before you need them to make sure they're running properly (spring).

Testing your furnaces before you need them to make sure they're running properly (fall).

Checking your evaporator drain and clearing out clogs if necessary.

Making sure the concrete slab your unit sits on is still level.

Cleaning your furnace's heat pump before winter starts.

Checking ducts for any blockage.

Lubricating any moving parts before the unit is needed for the season.

Programming your thermostat to the right temperature for the season.

Tightening electrical connections.

Checking and adjusting your HVAC dampers.

Checking for leaks in your gas connections.

Testing your furnace's motor rampage before winter.

Testing your air conditioner's discharge pressure before the cooling seasons.

Testing your furnace's safety shut-off before the heating season.

Doing a safety check on your entire furnace before you start using it.
Anytime
Turning off outdoor units and hose them down if they're dirty.

Clearing ice build-up from your condenser coils.

Clearing blockage in ducts.

Checking your

defrost control board

.

Safely cleaning rooftop units and performing needed health checks.

Measuring and refilling refrigerant as needed.

Replacing your furnace's evaporator pad when necessary.

Regularly checking all safety controls on all units.

Replacing heating or cooling units when needed.
The good news is, there are a few things you can do yourself, anytime, like:
Do This Yourself Anytime
Clean your air filters every month.

Check whether you have 1-month or 90-day filters and replace them accordingly

Remove dust and debris from your unit whenever you see it.

Plant or trim back foliage so it's at least 18 in (45 cm) away from any outdoor unit.
Prevent Future Problems with Energy-Efficient HVAC
Regular maintenance can extend the life of your HVAC unit, but it will eventually wear down beyond repair. Most HVAC systems are only built to last for 15 to 20 years.
When it's time to replace your system, upgrade to an energy-efficient model with Budderfly at no upfront cost. Energy-efficient HVAC units last longer and use less energy, so they don't need nearly as much maintenance.
With your preventative maintenance agreement, HVAC maintenance is performed regularly. Our expert team will make sure every unit performs to its maximum efficiency.
Contact our energy experts to book your free energy audit.