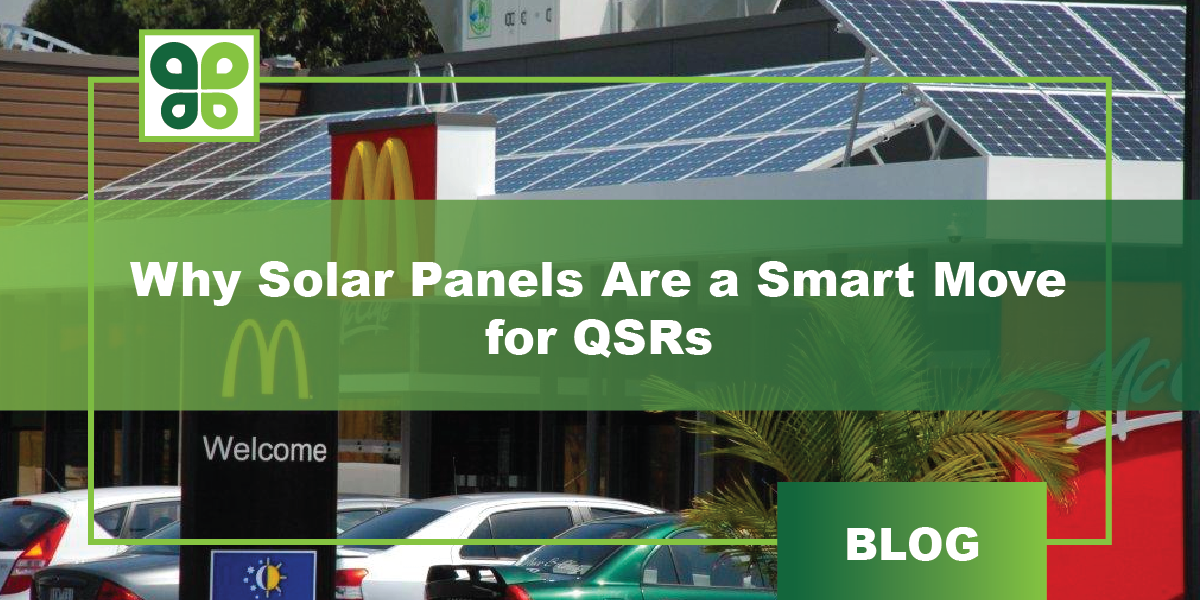 Why Solar Panels Are a Smart Move for QSRs
Solar energy is quickly becoming more popular than ever. The installation of solar panels has become more accessible, and people across the U.S. are increasingly enthusiastic about reaping the benefits they provide. 2022 saw a record year for residential installations, with 700,000 new homes going solar.
But homeowners are not the only ones who can benefit from solar panels—solar energy provides countless advantages for businesses like QSRs as well. From aiding emissions reductions to increasing customer loyalty, there are plenty of reasons it's a smart idea for businesses to take the solar plunge.
Lower carbon emissions.
It's become crucial that businesses reduce their carbon emissions to satisfy climate-conscious consumers and often, for franchise owners, to meet corporate mandates. The best first step for lowering emissions should be to improve energy efficiency with LED bulbs, high SEER heating, air conditioning, and ventilation (HVAC) units, and more. Such equipment upgrades make an immediate impact by lowering the amount of energy required for your business to operate.
Solar panel installation pairs perfectly with these efficiency upgrades, maximizing the benefit you get by ensuring a large portion of your energy usage is coming from earth-friendly renewable sources.
Using less energy overall and adding in green energy sources is a winning combination to slash your carbon emissions and make a positive impact.
Improve customer loyalty.
It's a fact that most consumers are increasingly conscious about their impact on the environment and the impact of brands they engage with. Countless studies from the past couple of years have reached this consensus.
In one study, 62% of consumers said it's now more important than before that companies behave in a more sustainable and eco-friendly way.
In a different study, 58% said they want organizations to change their practices, while 42% have changed consumption habits because of their stance on the environment. Even further, 21% have encouraged others to switch to a company whose values align with their opinion on an issue.
Solar panels are a great way to signal to customers that your business is doing its part. Especially when paired with an energy efficiency strategy, you can provide measurable results on the emissions you've reduced—going beyond brand greenwashing to demonstrate a commitment to sustainability and responsible business practices.
QSRs have a variety of installation options.
When you imagine solar panels, you most likely picture them on a roof. And while this is often a practical, ideal location for installation, solar panels can be placed in a few different locations for various benefits.
Depending on certain factors, solar panels can be installed on the ground. At certain QSR locations, they can be even placed over parking lots or drive-thru canopies. These creative installations can circumvent some roof installation issues and increase the benefits of already existing infrastructure.
In the future, a solar panel parking lot could also be paired with electric vehicle charging stations for even greener solutions.
They're more affordable than ever—and sometimes even free.
Solar panels have a reputation for being expensive, and it's true that they are an investment. But in recent years they have started to become more affordable. This is only going to improve.
Earlier this week, the Biden administration announce an $82 million investment in increasing domestic manufacturing of solar panels to reduce reliance on foreign imports and to make solar energy cheaper and more efficient.
Despite lowering costs, though, many businesses still cannot afford to shell out for the initial cost of buying and installing solar panels. Luckily though, there's a way around this investment.
Solar panels are part of the Budderfly suite of solutions. For businesses that qualify (based on location, building size, and a few other factors), when you opt in for energy efficiency upgrades with Budderfly, you can also get solar panels included.
That means you can get LEDs, premium high-efficiency HVAC units, refrigeration controls, patented monitoring technology AND solar panels installed—with no upfront cost. In other words, you can get all the benefits of lowered emissions and green energy with no investment needed.
Whether you're interested in Budderfly offerings and how we can help your bottom line, or an existing customer interesting in adding solar, contact us today.