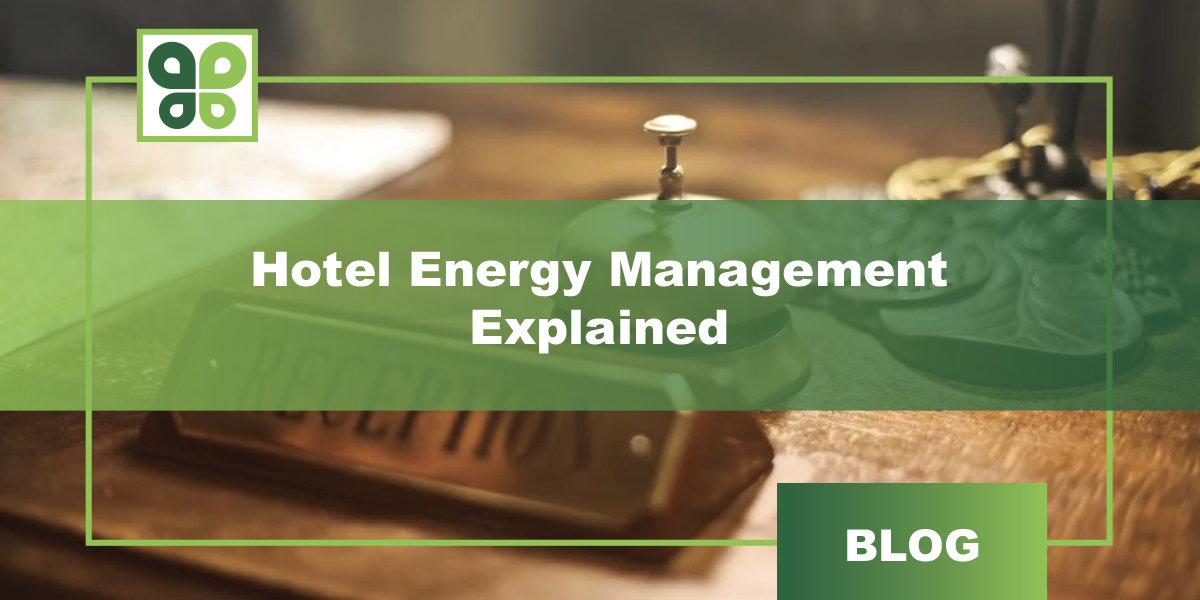 Hotel Energy Management Explained
Keeping energy usage under control at a hotel can be a challenge. Hotels use a lot of different resources for a wide range of facilities and guest behavior can impact energy usage. A well-planned hotel energy management strategy can help simplify this challenge.
Energy management in the hotel industry is well-worth the effort it may take to navigate. The average American hotel spends 6% of their total operating costs on energy. Plus, cost savings from reducing energy waste by 10% provides the approximately the same profit increase as raising the price of a room by $0.62.
How can you save energy? This article will answer that question by exploring effective hotel energy management.
"In many cases, a strategic approach to sustainability has an additional, often unexpected benefit of enhanced guest room comfort." - Robert Simons, Chief Sales Officer, Budderfly
What is Hotel Energy Management?
Hotel energy management refers to the strategies and practices that hotels employ to control their energy consumption. These actions can help limit environmental impact, and improve overall operational efficiency.
Where Do Hotels Use The Most Energy?
The amount of energy a hotel uses can vary depending on the facilities it offers. For example, a hotel with a pool will consume more water than one without. According to Energy Star, the average hotel uses the most energy in the following ways.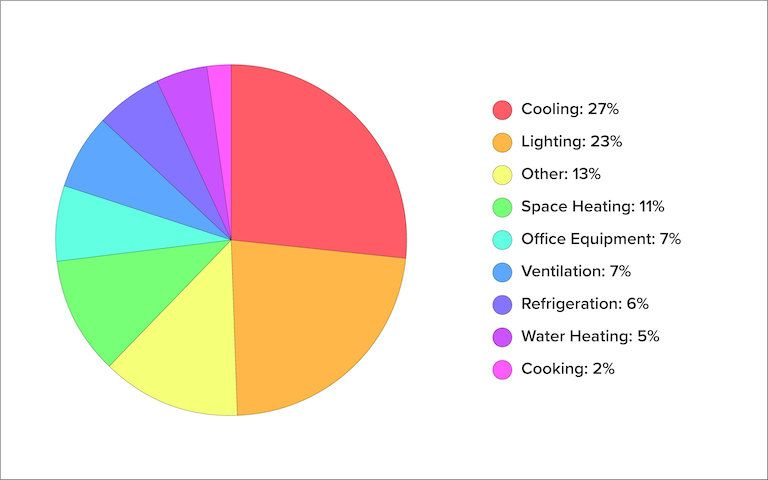 Source: Energy Star
HVAC Systems
Many hotels have extensive HVAC requirements simply due to the sheer size of buildings. To keep everyone comfortable, most hotels have HVAC units in each guest room. If your hotel has hundreds of rooms, that adds up fast.
Additionally, proper ventilation is crucial in hotels to maintain indoor air quality. Ventilation systems often run continuously which greatly contributes to energy consumption.
Lighting
Like HVAC units, hotels need lighting in all of their guest rooms. On top of that, hallways, lobbies, and other common areas all require a lot of lights. Since many hotels have staff working 24/7, lights may remain on around the clock.
Space Heating
Space heating is necessary to maintain a comfortable temperature. Large spaces require more energy to heat, and hotels often have high ceilings and large windows, which can lose heat quickly.
What Else Should You Know About Energy Management?
Office Equipment
Hotels aren't just rooms. They also have administrative areas, business centers, and event halls. These areas may contain computers, printers, and other office equipment that consume a lot of electricity.
Water Heating
Hot water is needed for guest showers, laundry, and food service. Heating all this water uses a significant amount of energy, especially in large hotels. This is even more of an issue if your hotel includes hot tubs or spa services.
Refrigeration
Hotels typically have restaurants or catering services, which require industrial refrigeration for food storage. Additionally, many hotels provide mini-fridges in guest rooms that add to your overall refrigeration usage.
Cooking
Industrial kitchens consume a lot of energy for a lot of reasons. Hotels often have one or more of these kitchens onsite. This adds additional energy costs on top of everything else that comes in your hotel.
5 Ways Your Hotel Can Reduce Energy Consumption
1. Optimize Your Heating & Cooling Systems
HVAC is your biggest energy consumer. Practice proactive maintenance to get more longevity and efficiency out of your system. However, you should also recognize when it's time for a greener replacement.
You should also consider installing programmable thermostats in all rooms and common areas. These devices can adjust the temperature based on occupancy, time of day, or season. This prevents staff or guests from overusing your air conditioning system.
2. Install Greener Lighting
Switching to energy-efficient lighting options, like LEDs, can dramatically reduce your hotel's energy consumption. LEDs are 300% more energy-efficient than fluorescent lighting and 1,000% more energy-efficient than incandescent bulbs.
Besides, LEDs are better for creating ambient environments in restaurants and guest rooms. Their smooth adjustability makes them perfect for dimmers.
3. Guest Room Sensors
Guest room sensors can detect when a room is occupied and adjust the lighting, temperature, and even electronics accordingly. This ensures that you aren't wasting energy on empty rooms.
For example, guests need to insert their key card to activate room power, ensuring lights and appliances only operate when the room is occupied. This smart approach not only enhances energy efficiency but also complements guest room sensors that adjust room conditions based on occupancy
4. Energy Efficient Housekeeping
Many hotels give guests the option to request "no housekeeping" while they are out of their room. This is an energy efficient practice because it reduces the amount of water your housekeeping staff uses on laundry.
Signs are also often placed in bathrooms indicating that only towels left on the floor will be replaced by housekeeping. This initiative not only conserves water but also likewise reduces the amount of energy and detergent used.
You can also train housekeeping to practice these green room cleaning practices.
Check to make sure that the windows are sealed tight
Turn off the TV if it was left on
Check for water overflows in bathrooms
Adjust thermostats to a designated amount
5. Green Restaurant Practices
Green restaurant practices are a whole other article, but since many hotels have one or more restaurants onsite, it's worth mentioning. Learn how to be energy smart at your restaurant and implement these practices to every restaurant in your building.
See How Commercial Buildings Across Industries Enhance Their Green Strategy
In addition to these specific steps, consider investing in a hotel energy management system. These systems provide real-time data about your hotel's energy usage, allowing you to identify trends and pinpoint areas where energy is being wasted.
By understanding where and how energy is being used in your hotel, you can make more informed decisions about where you can improve.
Give Your Hotel a Green Upgrade with No Upfront Costs
Energy upgrades can seem like a significant expense and operational burden. However, you can save money and time by engaging with an Energy as a Service (EaaS) company, like Budderfly, to enhance your hotel's energy efficiency.
At Budderfly, our goal is to make the planet a greener place by providing energy-efficient solutions to more businesses. So, we'll help you implement premium LED lighting, multi-level HVAC upgrades, and continuous energy consumption monitoring all for no upfront costs.
Give your guests a greener, better-looking, and more comfortable place to stay. Talk to us about your options today.